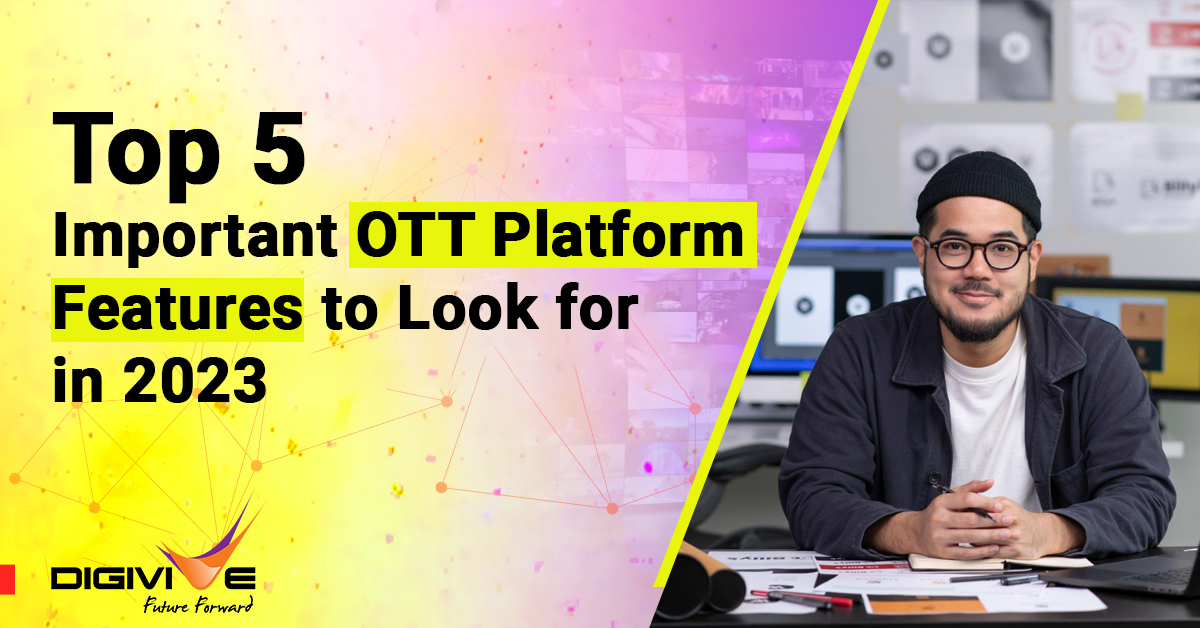 Top 5 Important OTT Platform Features to Look for in 2021
In this blog, we will be sharing The Ultimate Guide to Choose an OTT Vendor. So that you can get the best service for yourself. While doing so, you should take a look at some must-have OTT platform features that can help you provide the best service to your customers and make this venture beneficial for yourself as well.
Boom in the OTT Industry
OTT industry is booming. With enhanced networks, stronger internet connectivity and smart devices including mobile phones and connected TVs, the presence of Indian subscribers on over-the-top (OTT) platforms is increasing day by day. As it gives users the option to access the media content of their choice be it information, entertainment, or social activity, anytime and anywhere they desire. Moreover, OTT seems to be the next normal for the world of entertainment with the extended lockdowns and the adaption of OTT services.
Indian OTT market
India is now home to around 40 providers of over-the-top media streaming providers. According to a Boston Consulting Group report, India's OTT market is poised to reach $5 billion in size by 2023, although this number should likely be revised upwards on the back of the rapid uptake seen during Covid-19.
If you are considering offering OTT TV to your customers, you should not consider just OTT Platform cost your top or only priority. You should always look for some OTT platform features that we will be sharing below, we'll cover some of the key critical OTT features to evaluate the platforms when you are deciding which direction to move in.
But before that, let's have a look at what is an OTT platform and after that, we will move on towards some must-have OTT platform features.
What's an OTT Platform?
An over-the-top (OTT) platform, also called an OTT solution, is a service that allows users to watch movies, TV series, live-streamed content, and other videos through the internet on devices like mobiles, smartphones, tablets, and smart TVs.
For instance, Netflix, Prime Videos, YouTube, Hotstar, Zee5, Voot, nexGTv, etc.
OTT Platform Features
Now, let's explore the top 5 OTT features to look for in 2021 in an OTT platform.
Multi-screen Applications
Compelling User Experience
In-Build Monetisation Tools
Scalability
Flexible to Support Customization
Multi-screen Applications
So, the first and foremost important OTT platform feature is the viewing experience. In addition, to entertain your viewers across all devices seamlessly. Give them the freedom to watch on almost any device with an internet connection. Must have apps are – IOS, Android, Android TV, Website, Fire TV, Roku TV, and Apple TV. Moreover, these apps should be backed by centralized CMS to Upload and manage your content in one unified portal. Any updates to your videos, movies, and extras will be published out to all your apps instantly.
Compelling User Experience
In 2021, you should not complicate interfaces and force users to take extra actions. Try to minimize the number of elements and fields that customers should fill out. Simplified registration and signing in became one of the latest UX trends. In addition, you should offer your users an experience that established consistency of interaction. Whether you were accessing the service on a mobile, tablet, website, TV, etc. So, a compelling user experience is a must feature to adapt by the OTT platforms providers.
In-Build Monetisation Tools
Having In-build monetization tools is a very critical feature. As it helps you to make money with the right app monetization strategy.
So, which monetization strategy is best for your app?
The truth is that it really depends. In most cases, a combination of the models will yield the best results. The platform should have the capability to support your most suitable monetization model or a mix of them. Some of the popular monetization models are subscription (SVOD), Transaction (TVOD), advertising (AVOD), and pay-per-view. While popular payment instruments are Payment gateways, Wallet integration, UPI integration and Telco billing integration, App store billing, etc.
Scalability
Viewers today expect instant and uninterrupted access to streaming services. They want broadcast-quality video on the device of their choosing. Keeping the demand of high standards requires extended lockdowns and the adaption of OTT services platform with remarkable reliability, capacity, and scalability. Furthermore, the platform should be able to scale rapidly to serve large audiences ensuring quality video delivery.
Flexible to Support Customization
Not all of your customers want the same thing or use products the same way. Every business has its strategy and business needs. The pace of technological advancement is driving the need for fast and highly customized solutions to acquire, serve and retain customers. Hence, product customization becomes an essential part of your product strategy. Always make sure you choose a robust and flexible platform. That adapts customization with modifications of the existing features. Above all, always request customized features to suit your business strategy, integration with 3rd party tools, and a lot more.
About Digivive
Digivive is a leading OTT Platform, White-Label Technology, and service provider in the converging mobile and digital landscape. We work hand to hand with world-leading telcos, cable operators, broadcasters, educational institutions, transport operators, and media companies. Enabling them to get ahead with profitable video services, Swiftly and Flawlessly. We make sure to provide you all these OTT platform features. Also, we would love to modify any other features for you as well.