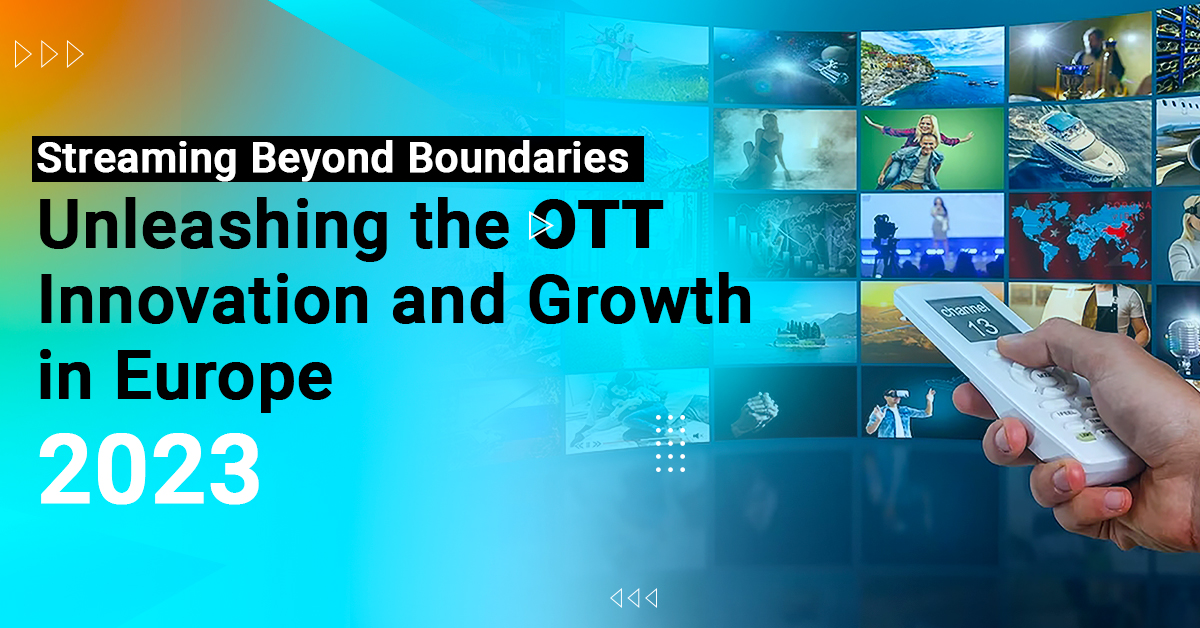 Streaming Beyond Boundaries: Unleashing the OTT Innovation and Growth in Europe 2023 !
Over-the-top (OTT) services have witnessed remarkable growth in recent years, revolutionizing the way we consume entertainment content. In 2023, Europe stands as a hotbed of innovation and exponential growth in the OTT industry. This blog explores the exciting developments and emerging trends that are shaping the landscape of OTT in Europe in 2023.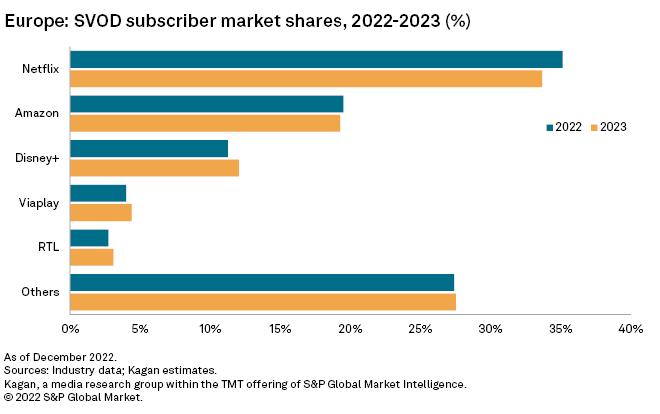 Diverse Content Offerings: One of the key drivers behind the rapid growth of OTT in Europe is the availability of diverse content offerings. Streaming platforms have expanded their libraries to cater to a wide range of audience preferences, including movies, TV shows, documentaries, live sports, and exclusive original series. This vast selection of content, combined with personalized recommendations, ensures a compelling viewing experience for European consumers.
Localization and Multilingual Content: As OTT services expand their reach across Europe, localization and multilingual content have become paramount. Streaming platforms now prioritize subtitling, dubbing, and language customization options to cater to various European markets. This focus on localization not only enhances user experience but also helps to bridge language barriers, making OTT more accessible and inclusive for audiences across the continent.
Original European Productions: To captivate local audiences, OTT platforms have been investing heavily in original European productions. From gripping crime dramas to thought-provoking documentaries and quirky comedies, European content creators are pushing boundaries and delivering high-quality productions. This investment not only showcases the rich storytelling talent within Europe but also strengthens the region's cultural influence in the global entertainment industry.
Seamless User Experience: OTT platforms are continually enhancing the user experience to stay ahead in the competitive market. Improved streaming quality, intuitive interfaces, and user-friendly features have become standard expectations. Furthermore, the integration of artificial intelligence and machine learning algorithms has allowed platforms to provide personalized recommendations, creating a more tailored and engaging experience for European viewers.
Partnerships and Collaborations: Collaborations between OTT platforms and traditional media players have gained momentum in Europe. Content providers, broadcasters, and telecom operators are forming strategic alliances to leverage each other's strengths and expand their reach. Such partnerships not only enable OTT platforms to tap into existing subscriber bases but also facilitate the integration of OTT services with traditional TV offerings, allowing for seamless transition and hybrid viewing experiences.

Expansion into Niche Markets: OTT platforms are increasingly targeting niche markets and catering to specific interest groups. Whether it's specialized genres like horror, anime, or independent cinema, or catering to specific demographics such as children or seniors, OTT services are expanding their content libraries to address the unique preferences of diverse European audiences
International Expansion and Global Partnerships: European OTT platforms are not only expanding within Europe but also venturing into international markets. Partnerships and collaborations with global players are facilitating this expansion, enabling European content to reach a broader global audience while also introducing international content to European viewers.
Increasing popularity of FAST platforms –
As subscription video-on-demand (SVOD) services reach saturation and connected TV usage continues to rise, Free Ad-Supported Streaming TV (FAST) platforms are gaining significant popularity. Leading platforms such as Peacock (owned by Comcast Corp.), Pluto TV (owned by Paramount Global), Rakuten TV (owned by Rakuten Group Inc.), Roku, and Samsung TV are among the most sought-after options available across multiple territories. In this sequence, Digivive Services has emerged as an OTT solution provider in Europe, providing white label OTT platform solutions in AVOD, FAST TV, and other similar OTT models.

This shift towards FAST platforms is reflected in the projected growth of digital video's share in the combined digital ad spend of the U.K., Germany, and France. According to Magna Global, this share is expected to increase from 8.1% in 2021 to 10.0% by 2026, indicating a gradual transition from traditional linear TV, radio, and print advertising to digital formats, in line with the surging popularity of OTT video. This trend is further supported by S&P Global Market Intelligence research, which reveals that the four major advertising groups have revised their 2022 annual forecasts twice, attributing the upward revisions to increased annual organic growth, driven in part by the growth of digital advertising.


Bottom Line :
OTT innovation and growth in Europe in 2023 continue to thrive, driven by advancements in technology, diverse content offerings, and a focus on user experience.
As we venture into 2023, the OTT industry in Europe continues to flourish, fueled by innovation, diverse content offerings, and improved user experiences. The region has become a hub for creative storytelling and has witnessed significant investments in original European productions. With the growing emphasis on localization, multilingual content, and strategic partnerships, the OTT landscape in Europe is set to expand further, offering an ever-evolving and immersive entertainment experience for viewers across the continent.