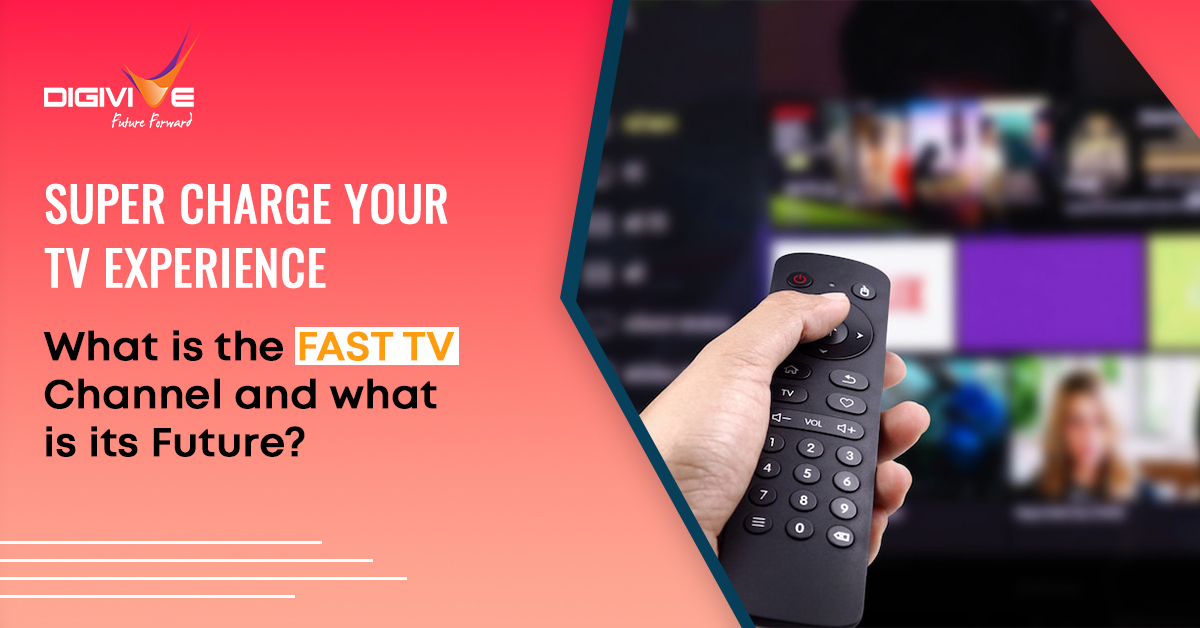 Supercharge Your TV Experience
What is the FAST TV Channel and what is its future?
The "FAST" streaming service is a growing competitor to cable and major streaming services. It's not too late to join Digivive, and you might want to join us as well.
FAST denotes a free ad-supported streaming TV service. It is much the same as live TV but without a subscription. This media format also enables both streaming providers and advertisers to build ad business models and monetize exclusive content.
Adoption of the Free Ad supported TV channel is rapid because it is free to watch, doesn't require a dedicated set-up like cable or Pay TV, and provides a vast array of linear and on-demand content to the viewers. People find it a convenient replacement for traditional Pay TV with hundreds of free-to-watch and 24/7 accessible channels without any cord connection.
Types of FAST TV services
Platform agnostic
Platform exclusive
Platform agnostic FAST services transcend platforms, allowing viewers to enjoy their favorite content on any device, regardless of the operating system. Whether it's a smart TV, browser, or more, the choice is yours. Explore popular examples like Pluto TV, Xumo, Peacock, and Roku, catering to your preferences.
Platform-exclusive FAST services are designed exclusively for specific operating systems, offering unique features and content. To access relevant FAST services, viewers can dive into brand-specific ecosystems. LG channels, for instance, are a treat reserved for LG webOS TVs, while Samsung TV thrives on Samsung smart TVs.
Difference between FAST and AVOD?
You might be thinking FAST is the same as AVOD…right?
No, it's not the same as AVOD
They both utilize advertising as a monetization method. The key difference lies in their distribution approach. AVOD allows viewers to select and watch content on demand, giving them control over what they watch and when. On the other hand, FAST TV streaming offers a more traditional TV experience, where viewers tune into specific channels and watch content scheduled at the time of viewing.
Both FAST and AVOD provide effective solutions for monetization and revenue generation while offering an alternative to costly cable subscriptions. According to a recent report, 53% of smart TV owners are engaging with FAST services, while 55% are watching AVOD content. The remarkable growth of free ad-supported TV has resulted in a gradual decline in consumer interest in subscription video on demand (SVOD). In fact, statistics indicate that the share of US households with SVOD subscriptions decreased to 85% in the third quarter of 2021.
How FAST Channels Work?
FAST channels revolutionize the streaming experience by offering ad-supported content from broadcast networks and other sources. By licensing existing shows and movies, Free Ad supported TV channels monetize through advertisements, allowing viewers to enjoy the content completely free of charge.
Unlike traditional subscription streaming, where viewers actively search and select programs from a streaming platform, FAST channels provide the comfort of a traditional broadcast experience within the streaming landscape.
This seamless integration appeals to a growing number of individuals who are seeking alternatives to traditional cable packages and streaming subscriptions. The appeal lies not only in the freedom from contracts and monthly fees but also in the incredible ease of use. Simply connect to the internet, and you're ready to dive into the world of limitless entertainment.
Why should advertisers care for FAST TV ?
In the realm of FAST markets, the US has taken a significant lead over the UK and Europe by several years. As you delve into this landscape, you quickly realize its vastness, boasting an impressive array of over 1,400 channels across 22 networks. Platforms such as Pluto TV, Xumo, Tubi, Roku, Samsung TV Plus, and Amazon's Freevee serve as gateways to this abundance of content.
Streaming ad-supported content for free allows consumers to save a substantial amount of money. Viewers have grown accustomed to advertisements being integrated with free programming, as reported by Ashley. In fact, according to Consumer Reports, cable TV subscribers were already accustomed to dedicating 18 minutes of each hour to advertising.
Rufus Radcliffe, the managing director of on-demand at ITV, highlights the strong preference for FAST channels among focus groups, resulting in their elevated status on streaming platforms. These channels excel in providing content in a curated, "lean-back" manner, catering to viewers who appreciate the ease of discovering quality programming in a landscape brimming with options.