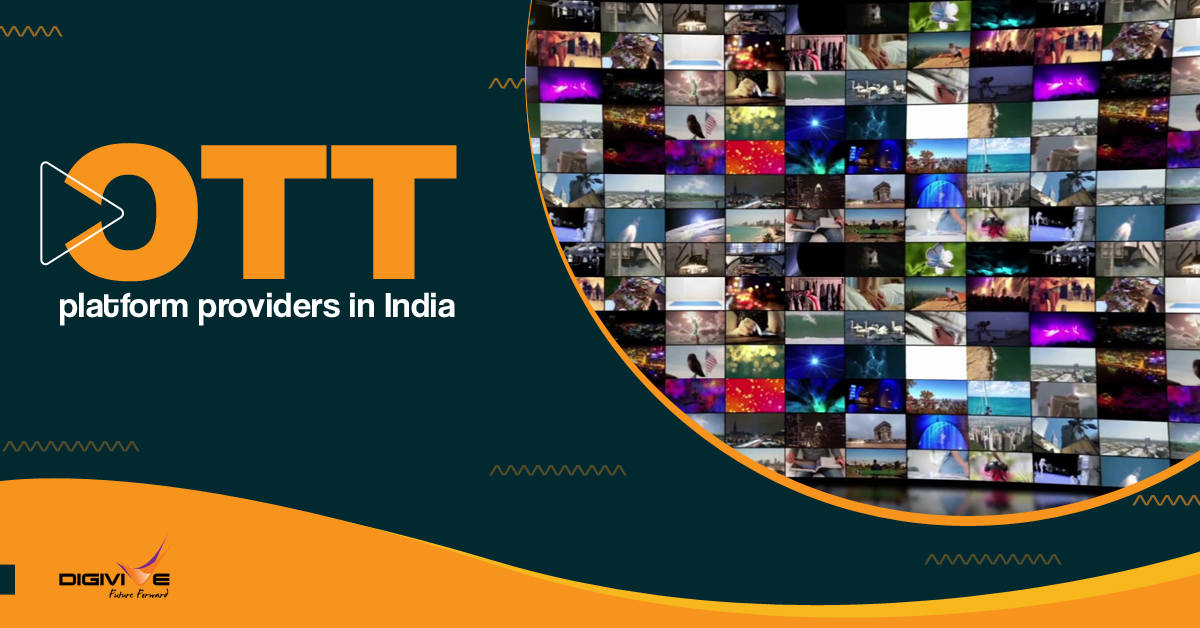 OTT platform providers in India
Know about the top OTT platform providers in India
We know you're curious to know about OTT platform providers in India but before that let's know a little bit about OTT and some of the top OTT platforms and then we will talk about the OTT service providers in India.
What is OTT?
The term "OTT" refers to Over the top. Over-the-top services are the ones that provide content to the viewers via the Internet. We can say that OTT is a term that describes the modern-day media industry very well. Nowadays, people prefer to consume content through online platforms rather than depending on the television with a cable connection and a lot of commercial breaks. Because OTT platforms provide freedom to the user to choose whatever they want to see, whenever and wherever they desire, that is the most captivating thing about the OTT platforms.
Other than that it provides the freedom to watch the content on various devices like mobile phones, tablets, laptops, TV, etc. So, all in all, there is a major shift in the media industry from traditional ways of consuming content to consuming content via OTT platforms.
Rise of OTT Industry
Everyone has witnessed the rise of the OTT industry, owing to that the content owners are trying to set up their own OTT platform and rule the market with their content. Yes, there are a lot of OTT platforms that are already ruling the market. However, the regional media industry is also witnessing a boom in the number of users, consuming content through regional OTT platforms. So, if you own regional content and are looking to jump into the market, then this is the right time.
Moreover, as we stated that the Regional media industry is rising as well. Here's a list of regional OTT platforms that are popular in India.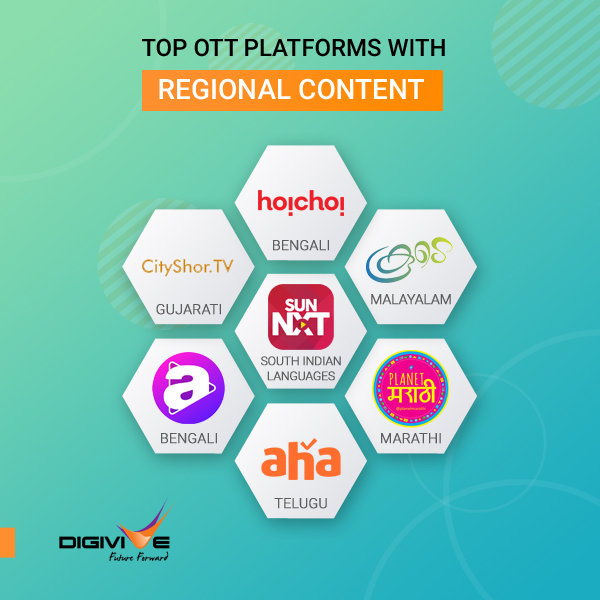 We know that the regional market is on the rise as the users are demanding regional content. We believe that it's the right time for broadcasters, content owners, telecom operators, etc to get their own white-label OTT platforms to target the regional users and set up a profitable business.
But before jumping into the market it's necessary for you to know about the industry and must-have features in OTT platforms. Once you get to know about that then we will move on towards the OTT platform providers in India.
Must-have Features in an OTT platform:
As we all know that the OTT industry is skyrocketed because of the pandemic. With the 4G, 5G networks and smart devices like mobile phones and televisions, the presence of Indian subscribers on over-the-top (OTT) platforms is increasing day by day. With the increase in the number of users, many content owners want to build their own OTT platform, and those who want to set up their own OTT should always look for some must-have features in the OTT platforms, we'll cover some of the critical OTT features and then we will learn about the OTT platform providers in India.
Here are the top OTT features to look for in 2021 in an OTT platform.
Multi-screen Applications
Compelling User Experience
In-Build Monetisation Tools
Scalability
Sophisticated content management system
Secure monetization
Reliability
Security
Flexible to Support Customization
As you know about what is OTT and the top features to look for in an OTT platform. It's time for us to know about OTT platform providers in India. There are a lot of OTT service providers in the market. But when it comes to the best OTT platform providers in India, we as "Digivive" are proud to say that we are: 
The Pioneer:
We are India's leading provider of white-label OTT services with 10+ years of experience.
The First Movers:
We are the pioneers. Digivive is India's 1st company to launch a mobile TV app in India. Digivive partners with ESPN-Star Sports to bring ICC World T20 live on our flagship app "nexGTv mobile" in 2012.
The most efficient:
We make sure that our clients get the most cost-efficient managed OTT solution from us.
Global Solution Delivery:
We are a one-stop shop for OTT players requiring a global, modular OTT service. We help you leverage innovative technologies & services to solve the most critical challenges in your OTT business by providing you
Feature-rich applications:
Launch multiscreen OTT service with efficient technologies.
Advanced CMS and analytics:
Streamline your video management by easily managing and curating content driven by strong analytics
Monetization:
Use the most effective monetization strategies to grow your OTT business and make it profitable.
Feature-rich App:
Seamless viewing, any device, anywhere 
Live and On-Demand content streaming 
SD, HD, Full HD, 4K with ABR 
Recommendation engine 
Advanced search, voice search 
Personalization 
Bookmark, add-to-watch later 
Time-shift TV, Catch-up TV 
Offline viewing 
Push notifications 
Manage accounts and devices 
Parental controls
These were some of the highlights of our services. To learn more about us and our services. Get in touch with us.
Furthermore, there are many other OTT platform providers in India and overseas, have a look at:
Other OTT platform providers in India
However, Digivive provides the freedom to the clients to get 100% customizable design, managed services, advanced monetization tools, real-time insights, marketing support, and upgrades, and many more.
So, if you are looking forward to setting up your own OTT platform, we can help you with the best. Feel free to get in touch with us, our team will be more than happy to help you.