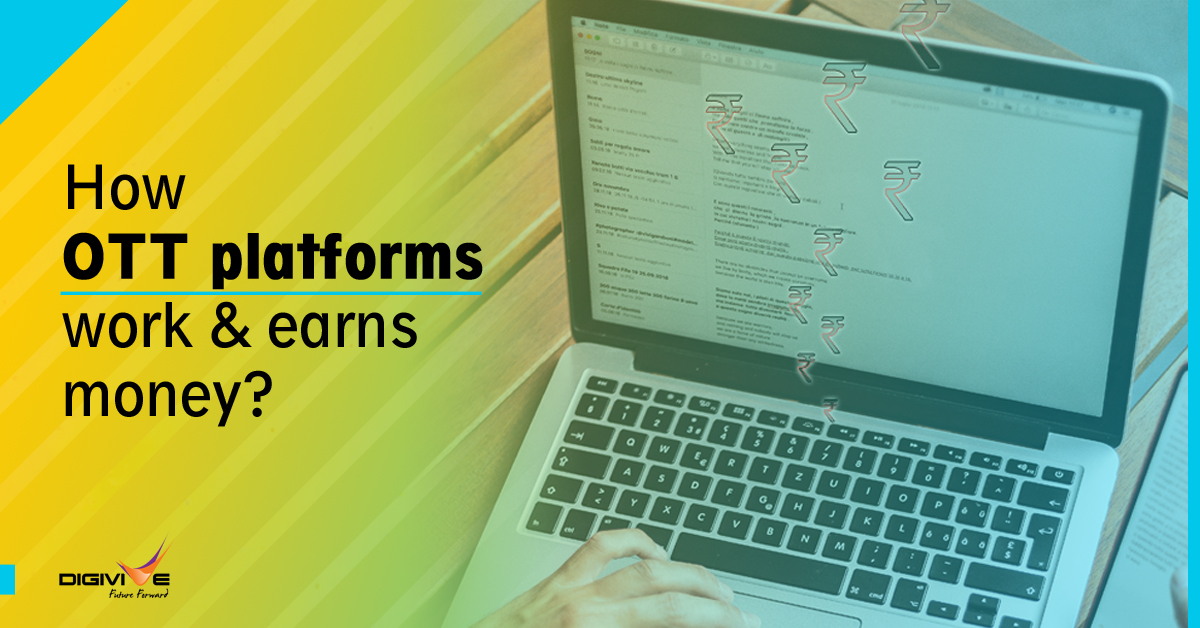 How does the OTT platform works and earns money?
Well, there is always this curiosity in people regarding OTT platforms, that how does the OTT platform works and earns money out of it. If you think want to know about this too. Then this blog will help you out understand everything related to OTT platforms. But before learning how does OTT platform work, let's know what exactly OTT platforms are.
What is an OTT platform?
OTT stands for Over-the-top platform. It refers to a method of sending content whether it is audio, video, etc over a high-speed Internet connection. Instead of sharing it in the old-fashioned way via broadcasters and cable operators.
Mostly the content delivered over OTT is video content like movies and TV serials or daily soaps. Also, music can be directly streamed to a consumer's smartphone, laptop, or smart speakers over the internet via music OTT platforms.
Some of the most popular video OTT platforms are as follows:
Disney+Hotstar
Zee5
Jio Cinema
Alt Balaji
Sony LIV
Have a look at the market shares of all these music streaming OTT platforms.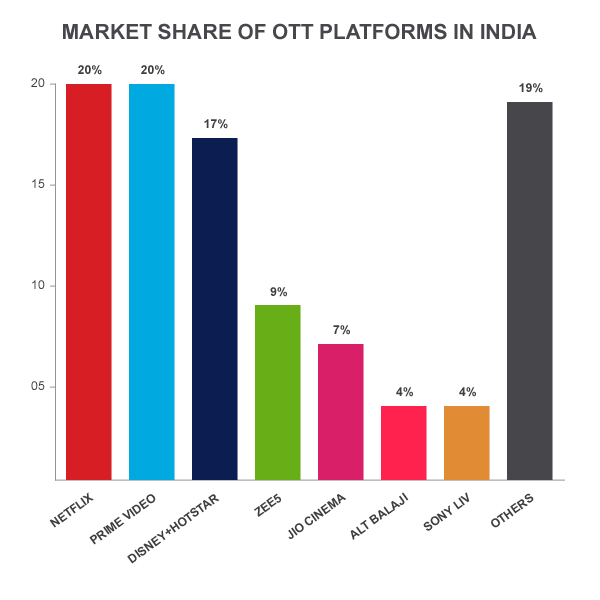 Moreover, some of the most popular music streaming OTT platforms are as follows:
Gaana
Jio Saavn
Wynk Music
Spotify
Google Play Music
Have a look at the market shares of all these music streaming OTT platforms.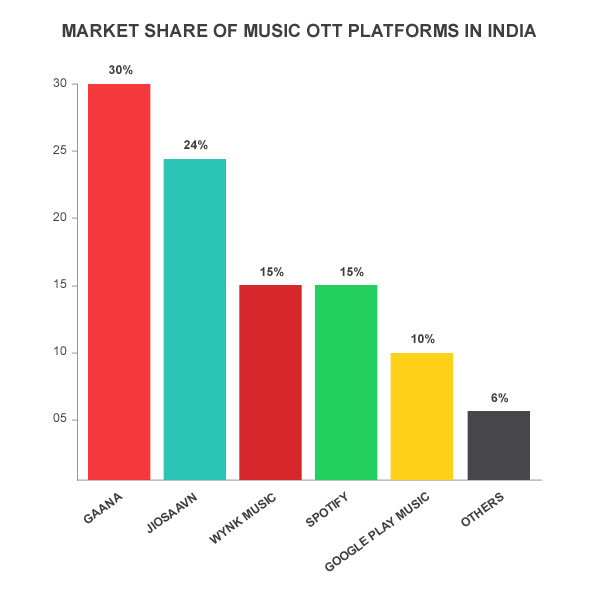 Now, Let's talk about types of OTT content.
Type of OTT content
We have already mentioned two types of OTT content above, i.e. Video and audio OTT platforms. There are other types as well. Let's have a look.
Video OTT:
We have already discussed video OTT platforms. Moreover, to give you a better understanding OTT video content consist of various types of entertainment, educational, health, and wellness type content.
Audio OTT:
OTT audio platforms mainly consist of music streaming services, like Gaana and Spotify, etc.
OTT messaging:
Over-the-top messaging services consist of platforms that provide messaging services like WhatsApp, Facebook messenger, etc.
OTT Voice:
OTT voice services consist of platforms that provide VoIP services that are delivered over the internet like skype etc.
So, these were the types of OTT services that are in the market right now and are on boom. You might have got a basic understanding of an OTT platform. Now it's time to know how it all works.
How OTT platforms works?
Let's learn about how the OTT platform works.
So, What happens is that the pre-recorded content is stored in the CDN (content delivery network) that is distributed all over the internet and the OTT platforms' video delivery technology uses a specific technology that is created only to securely stream the video files stores over a server.
When a user comes to a platform they select the video stream through any app and then a request is made to the local Content delivery network to get that file and deliver it to the user in video chunks. Also, a request is generated to the relevant DRM (Digital rights management) server. So that the media that has been requested can be decrypted and presented to the user in the form of desired media.
To give you more clarity on how this works, here are a few steps that the process follows:
Step 1
The user's device requests more than 30 seconds of chunks to fill up the player buffer using the manifest file from the content delivery network. 
Step 2
The content delivery network sends back the chunks and then the media key decrypts it for playback.
Step 3
The user device's player renders the video chunks sent by the CDN and plays them on the user's screen.
Step 4
Once all this process starts, the video player will keep requesting the video chunks in order to keep the playback buffer full, until unless the viewer pauses or stops playing. 
So, these were the basic 4 steps that an OTT platform follows in order to get things done and deliver the content to the user.
We hope all your doubts regarding how the OTT platform works should be addressed. Now it's time for us to learn about how OTT platforms make money or how they make profits out of it.
How do OTT platforms make money?
Almost everyone around us has a smartphone or smart Tv and is familiar with some kind of OTT platform, whether it is music OTT or Video OTT platform in the market. As we know that OTT stands for Over the top and is generally a term used to describe platforms that deliver TV series or movies over the internet.
To avail of an OTT service, all you need to do is to have a device that supports the OTT platforms app, with a good internet connection.
Nowadays there are a lot of OTT platforms in the market like Netflix, Prime Video, Alt Balaji, Hotstar, Disney, etc.
But not all OTT platforms have the same way to earn revenue, there are many different models of earning money when it comes to monetizing a platform. Mainly there are three types of VOD (Video on demand) models that almost all the OTT platforms use to generate revenue and these models are as follows:
SVOD (Subscription video on demand)
AVOD (Advertisement video on demand)
TVOD (Transactional video on demand)
SVOD
Subscription video on demand is a subscription model that allows a user to access the complete library of content for a price. The user will have to pay daily, weekly, monthly or they can pay annually as well. However, the paying cycle depends on the company's policies. Companies that follow the SVOD model, generate their revenues through this model and mostly every OTT giant follows this model. 
For example Netflix, Hotstar and Prime Video, etc.
AVOD
Advertisement video on demand, as the name implies the platforms that follow this ad-based video streaming model allow users to access the content but with advertisements. The user can consume the content with a little hindrance of the advertisements. The OTT platforms use the money generated from these advertisements to balance housing costs.
For example Youtube and MX Player, etc.
TVOD
Transactional video on demand, as the name, suggests that the user will transact on a pay-per-view basis. It means that the user will pay for each piece of content they consume. Let's say if the user wants to watch a movie, he/she will pay for the movie or the series.
For example Google Play and iTunes, etc.
So, these were the models that OTT platforms follow in order to generate revenue or the platforms can also use a combination of these models and those models will be known as Hybrid models.
So, this was all about how the OTT platform works and how do OTT platforms make money. We hope this was informational and cleared all your doubts. Moreover, if you would like to know about the OTT platforms features to look for in 2021. Then click on the link shared below.