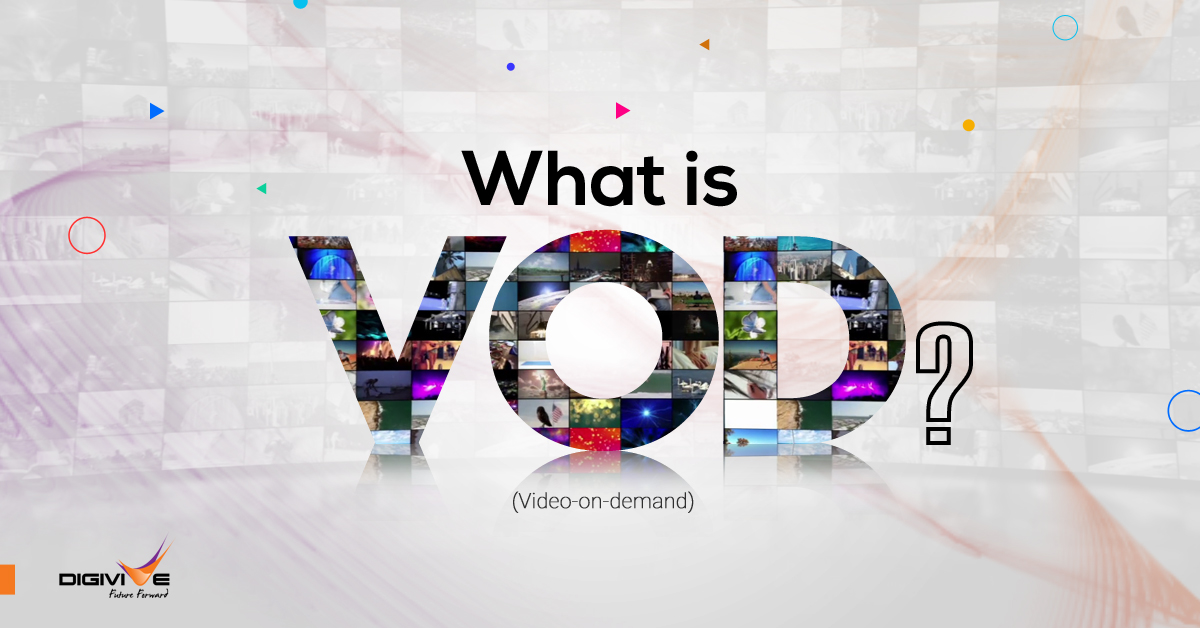 What is VOD?
VOD(Video on demand), there are possibilities that a lot of people all over the world are using VOD services on a daily basis without even knowing. VOD services are a lot more common than we think, it's one of the most preferred ways to consume video content in 2021 and the coming future as well. Take any industry for example, from entertainment, health to E-learning, etc, every industry uses VOD platforms to distribute their video content to their viewers. 
Still, if you have no clue about:
"What is VOD?" and, "What the fuss is all about?"
Then, do not worry about it, we have got you covered.
In this blog, we will be covering what is VOD? Including – How does it work, the advantages of VOD and the various VOD business monetization models, etc.
VOD (Video-on-demand)
As the name suggests, any video content distribution platform that provides users the freedom and the ability to choose how, when, and where they would like to consume the video content. In simple words, when a user simply clicks on a link to watch a video and watch it, that is a great example of a video on demand.
Basically, it's a system that distributes media and allows the viewers to access the video content provided by the content provider via a platform, without any video playback device is Video on demand.
The video-on-demand content is streamed on the internet and it doesn't rely on any kind of connection like cable or satellite connection all it needs is a working internet connection with enough bandwidth and the user can view the content on their own terms, wherever and whenever they would like. This allows the user to find and watch any type of content provided on a particular platform. All they need is a smart device whether it is a smartphone, smart TV, etc, and a working internet connection.
How VOD works?
To deliver any video content to a user the video is first converted into a digital format and then it is stored onto a server. Now as the video is in a digital format and is compressed, it is then transmitted to the viewer or the user via broadband or cable connections.
After the video reaches its destination it gets decoded to the video form again and gets decompressed via the user's set-top box and it is then stored to a video server in the user's end and that is it. The user can now watch the video instantly with various features like play, pause, stop and forward, etc.
So, now you have an idea about video on demand and how it works. Now let's talk about the advantages of VOD. There are a lot of advantages of VOD platforms. Some of those are as follows:
Basically, the listed advantages are from a content providers' perspective and are as follows: 
Compatibility
Affordable promotions
Viewership Matrices
Compatibility
When it comes to Video-on-demand platforms, the convenience of being able to consume the content as per the users' demand is amazing. The user can watch the content anywhere, anytime, and how many times.
Moreover, the VOD platform offers the convenience of being able to stream the content on different devices like smartphones, smart TVs, Playstations, etc.
With digitalization, cord-cutting is skyrocketing as people prefer being independent with a VOD platform as it provides the ability to consume the content as per customers' needs.
So, the Video on demand and the stream on the go platforms are great when it comes to conceiving compatibility.
Affordable promotions
When businesses promote their products, it costs them a lot of their hard-earned fortune. However, running ad campaigns on the online space is way cheaper and effective. So, the promotions are affordable on such platforms.
Viewership Matrices
As a content provider knowing users' behavior and analyzing various user data is important. The providers can easily measure the viewers' activity from the analytics. Unlike TV, there's no such way to target any specific segment of the audience and the user behavior. 
So, these were the advantages of the VOD platform from a content provider's perspective. Moreover, Video-on-demand streaming platforms have other advantages from a general user's perspective as well and those are as follows:
Convenience
Video on demand (VOD) platforms, provide freedom to the users from the broadcasts schedules. The user can easily search their desired content through keywords and watch their choice of content as per their choice.
Content variety
Users can select their preferred content from a huge library of content. As almost every VOD platform provider provides a variety of content to choose from.
Watch anytime
Users can play content whenever they want. Unlike "linear" TV programming, which only broadcasts in real-time, VOD doesn't rely on a set schedule. So, users can consume the content whenever and wherever they like.
Control what they watch
Users have more opportunities to pick and choose what they watch, compared to traditional TV scheduling.
Use media controls
Users can use many media controls like play, pause, rewind, fast forward, and completely control how they watch content. This way, they'll never miss anything important.
All in all, VOD gives audiences the freedom to view content in a convenient and accessible way.
Furthermore, there are many content providers in the market providing various genres of content, you can just find your liked video-on-demand content like:
Online tutoring
Music
Sporting events
Podcasts and interviews
Fitness programs
Now as you know the benefits of VOD (video on demand) platforms, your question of, "why use VOD (video-on-demand) for your business?" might be cleared as well. 
Top Video-on-demand Business model
For a VOD business, content providers have majorly 3 types of VOD business monetization models through which the provider can turn the viewers into loyal customers. The topmost monetization model for a VOD business are as follows:  
TVOD (Transactional Video on demand)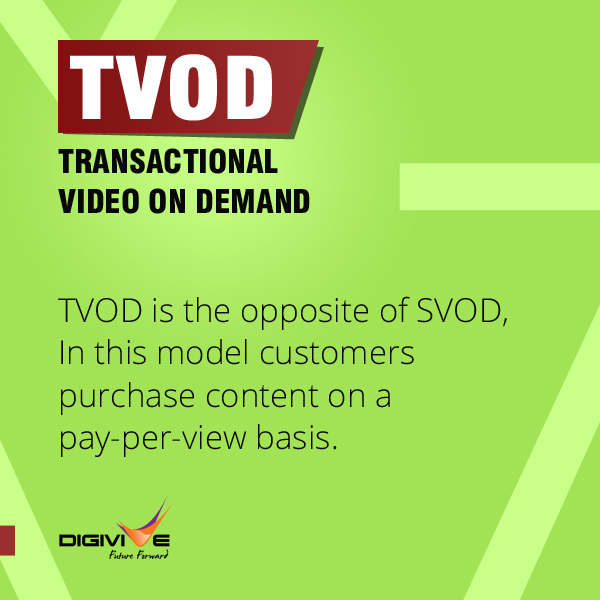 SVOD (Subscription-based video on demand)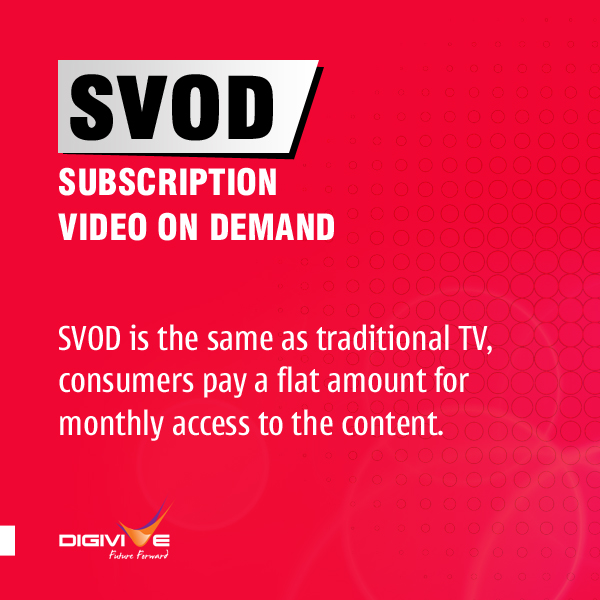 AVOD (Advertising based Video on demand)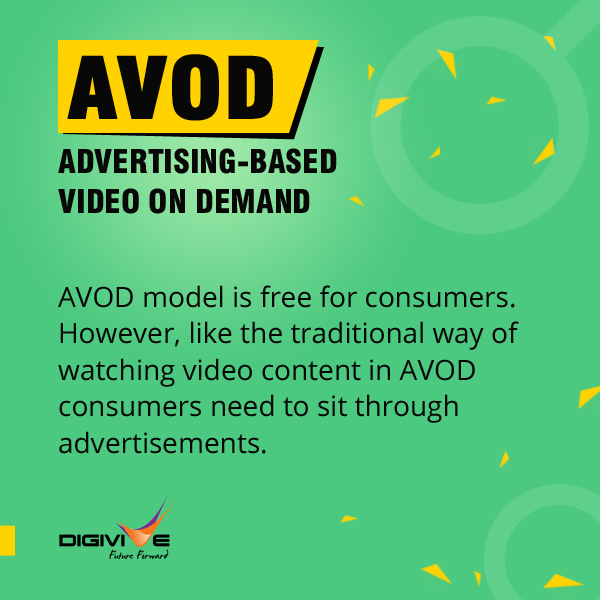 What should you look for in a VOD service provider?
Now, as you know about VOD and VOD services, and if you are a content provider and want to create your own VOD service. Then, here are a few things that you should keep in mind while selecting a VOD service provider and those are as follows:  
Adaptive Bitrate
Additional Functionality
Scalable, Reliable Delivery
Flexible Infrastructure Deployment
100% customized solutions
Live to Video on demand
Multi-Device Delivery
Various monetization opportunities
100% secure
These are a few things that you should be looking for while looking out for a VOD service provider. Moreover, we provide you with all these features with our VOD services. To learn more get in touch with us.